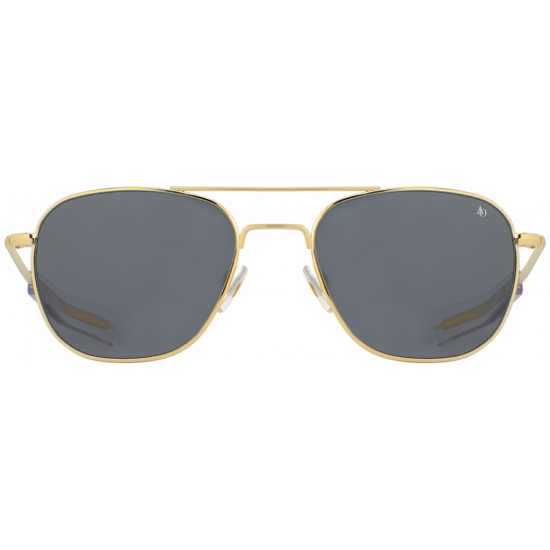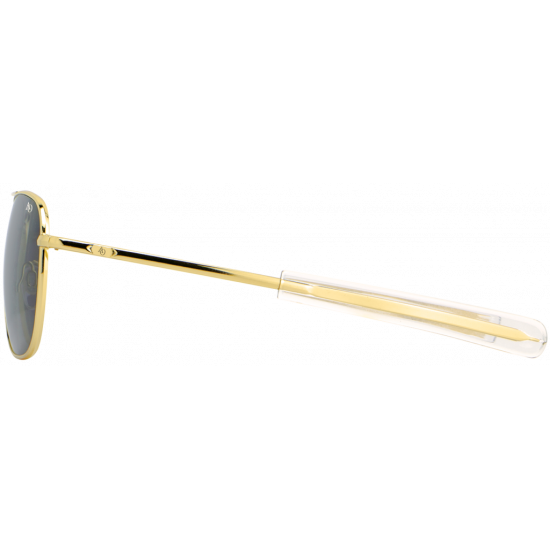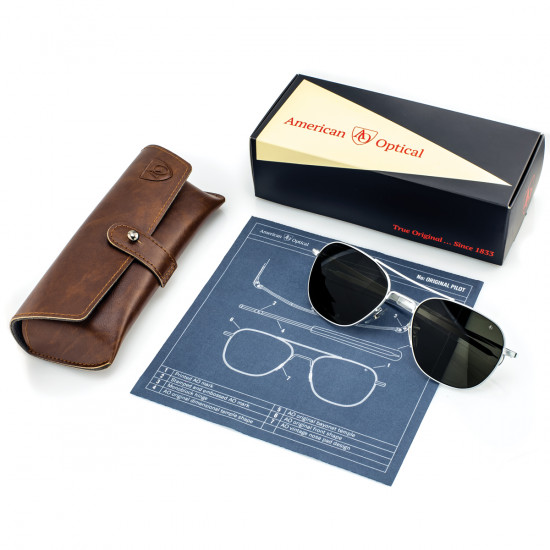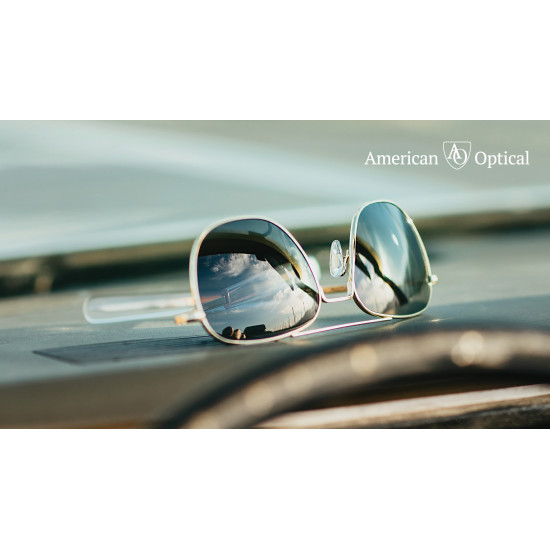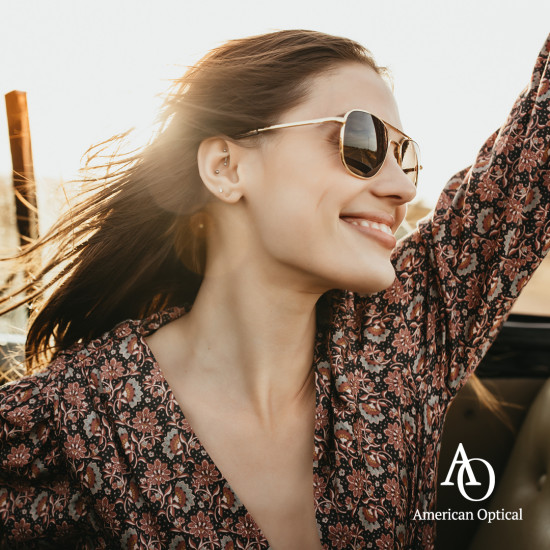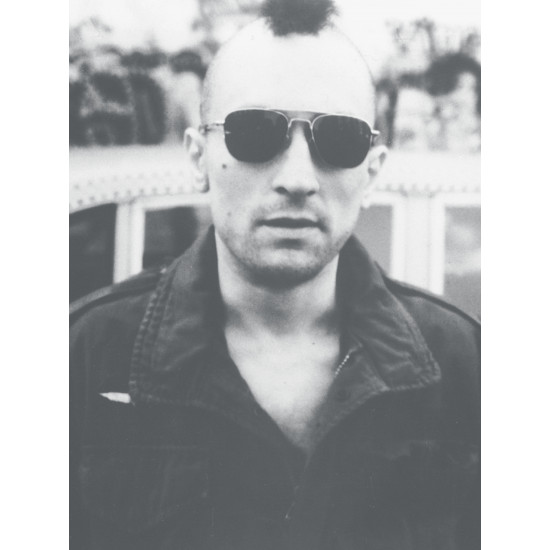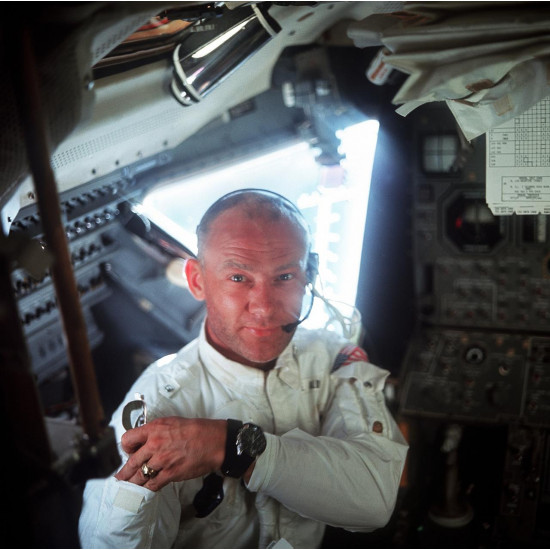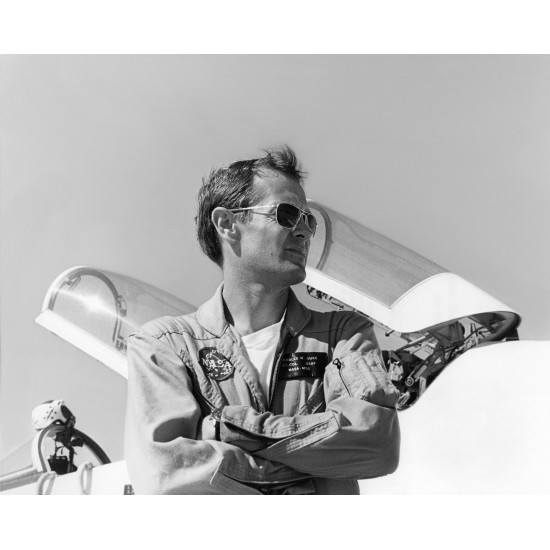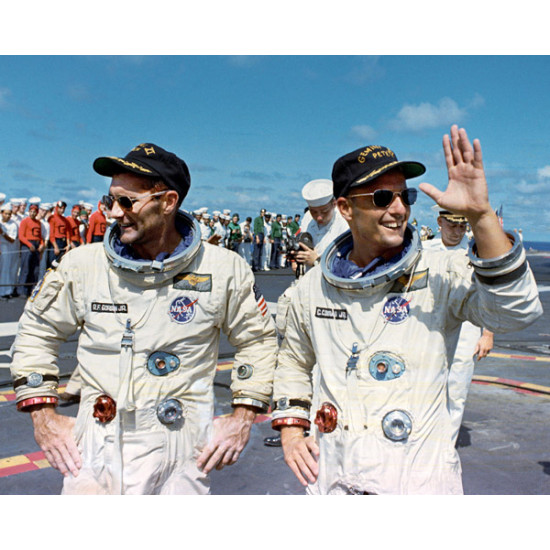 Use the chart to convert your measurement to a frame size that may suit your face :
- Face size 115 to 127 mm : 52 mm
- Face size 128 to 140 mm : 55 mm
- Face size 141 to 152 mm : 57 mm
Original Pilot Gold 23K
The Original Pilot has been a favorite of US military pilots since 1958. Except uncompromising quality - engineered to rigid military specifications. Wear it for life, it's a look that never goes out of style. Proudly made by American craftmen using the finest globally sourced components.

Size : 52/55/57-20-140 mm

Frame Color : Gold

Temple Style : Bayonet with clear temple tip

Lens Type : Nylon Gray - AOLite

™

True Color Gray

™

/ Glass Gray - Skymaster

™

True Color Gray

™

/ Nylon Gray Polarized - AOLite

™

True Color Gray

™ Polarized

/ Glass Gray Polarized - Skymaster

™

True Color Gray

™ Polarized
100% UV Protection (Lens Filter Categorie 3)


Conform to CE norms

Sold with case and microfiber cloth

Unisex Design

Buying from American Optical offers you the guarantee to buy products stored in France that will not be subject to customs tax and additional VAT to Europe.
Polarized lenses reduce extra bright light glares and hazy vision. An option that offers superior clarity and eye protection.
Available in Nylon or Glass.
Skymaster
™ glass lenses offer superior clarity for the closest thing to your natural vision. Originally developed for pilots

Skymaster™ is AO's premium lens option for distortion-free vision.

Gray sun lenses recudes eye fatigue in bright light conditions and are the color of choice for many pilots. True Color Gray™ is chromatically tuned to optimize optics. Also available in polarized lenses.

100% UVA/UVB Protection

Anti-reflective backside coating

Oleophobic smudge-resistant coating

Impact-resistant

Scratch-resistant material and hardcoat

Distortion-free for optical clarity



AOLite
™ is crafted from high-quality
nylon for a lightweight, impact-resistant lens that offers increased comfort without sacrificing on optics.

Gray sun lenses recudes eye fatigue in bright light conditions and are the color of choice for many pilots. True Color Gray™ is chromatically tuned to optimize optics. Also available in polarized lenses

100% UVA/UVB Protection

Anti-reflective backside coating

Oleophobic smudge-resistant coating

Impact-resistant

Scratch-resistant material and hardcoat

Lightweight for comfort